Fire proofing systems, fire proof insulation and passive fire protection for industrial applications requires specialized expertise and experience. With the knowledge, acquired over more than 40 years, IC realizes bespoke fire protection solutions for many industrial applications for example in the offshore, in production or power plants and chemical production facilities.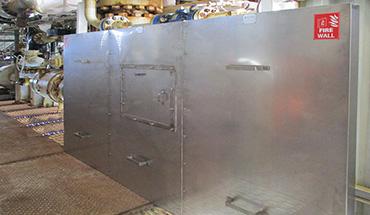 Passive fire protection
The passive fire protection solutions constructed and installed by IC include fireproof casings, fire resistant walls, floors and ceilings, transit and penetration, sealing's and the construction of complete fireproof compartments. Fire proofing with a jet fire JF150 classification can be achieved with the IGNIS PFP-BOX Jet fire protection boxes and walls.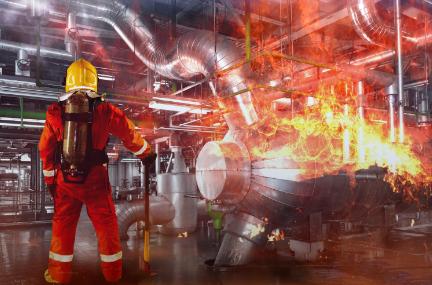 Important aspects in fireproofing
Important aspects in fireproofing and insulation are maintaining the structural stability, avoiding flashover and guaranteeing thermal restrictions of structural elements are not exceeded. The required fire resistance is in general defined somewhere between a half an hour and two hours. It depends on the type of construction material, the specific requirements of the client and/ or the requirements of the local fire department.
Applications of fireproofing systems and fireproof insulation
Often fireproofing systems and materials are applied at transits (penetrations) where cables, tubing and pipes enter into an adjacent space. At these points fires can easily cross over from one area to another and it is essential to protect both equipment and personnel against not only fire but also smoke hazards. When engineering solutions for these situations it is all about the creation of well isolated compartments and providing safe and reliable escape routes through the structural elements of these compartments.
Fireproofing materials, insulation and techniques
In the construction of the fireproofing systems IC uses proven materials of manufacturers like ROCKWOOL, PROMAT, FLAMRO and ISOVER. Next to this IC is a Flamepro selected contractor using Flamepro certified systems & products.
Installation procedures, certification and logging
IC fireproofing systems, fire proof insulation and passive fire protection provisions meet all the legal requirements for fire safety. Responsible IC staff members are well trained and registered. During maintenance and installation work on fire proofing systems electronic loggers are used to match activities with area reference codes. In this process for example each shielded penetration is logged with its unique code number.
Where to start?
In general, our recommendation is to start with a site survey. With collected information and fire protection requirements a plan of action will be made including the design, operations planning, installation and where required a schedule for an annual inspection. Contact us for more information on fire proofing / passive fire protection solutions.