In industrial processes, the temperature control can be of great importance. The installation of heat tracing with or without additional insulation systems is often an effective way to prevent undesirable cooling effects or to compensate for heat losses in a process component or pipes. Like any heat tracing solution the design is tailored to the requirements of the application.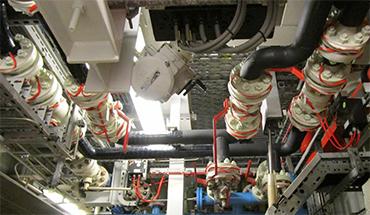 Electrical heat tracing or steam tracing
IC provides solutions for both electrical and steam tracing. Due to its easy installation and relatively maintenance-free use electrical heat tracing is most commonly used. Steam tracing is often only applied when steam is directly available on site, and/ or the power consumption of an alternative electrical heat tracing would be very high. Applications of this type of tracing may be for the heating of very large storage tanks and pipes with large diameters.
Installation of electrical heat tracing
Electrical tracing is very flexible and therefore easy adapt to the shape of process components and pipes. When dealing with existing process installations the tracing cables are pulled into trace conduits at the location. Heat tracing cables may be installed continuously on pipelines or water lines, or only at specific locations where unwanted cooling can cause e.g. freezing, crystallisation or coagulation of media. With some new installations the tracing can also be applied in the IC workshop prior to insulating process components. The installation can be done in conjunction with engineering upfront and test reports (MEG), with as built documentation afterwards.
Heat tracing in combination with extra insulation
Because IC also provides thermal insulation solutions, the heat tracing can be combined with additional insulation systems and mattresses. The systems consist of (removable) customised casings or mattresses and/or pipe casings. In addition, IC supplies complete heating jackets.

Heating Jackets
Flexible heating jackets offer a very efficient way of evenly heating and insulating in one. With these integrated heating solutions, installations can easily be kept at the right temperature. Are you carrying out maintenance of the installations? Then the jackets can be quickly and easily removed using Velcro fasteners. This also allows the systems to offer the required flexibility in research applications. We have by now equipped a significant number of 'objects' with flexible heating jackets in oil & energy labs.

The advantages of heating jackets:
Easy to remove and reusable
Easy to install, even in complex situations
Long lifespan
Made to size in the shape of vats, pipes, valves or pumps
Temperature range 0° to 900°C
Efficient heating system
Optimal heat distribution
Waterproof and resistant to chemicals
Also available with Atex certificate.
Advice, thermal calculations and installation service
The design and construction of heat tracing solutions is always performed in close cooperation with our clients. Since every installation is different IC will look closely at your temperature requirements, safety restrictions and process needs. Next to the installation we also provide design and engineer support were required. We can help you with different kinds of thermal calculations, like heat absorption vs power consumption, max surface temperature and heat up/ cool down times. Guarantees on achievable results of combined tracing and insulation systems are possible. Contact us for more information.

Case study data sheets

#21 Insulation & tracing offshore