At this time, IC installs PU (Polyurethane) insulation on a number of trailers and mobile tanks including the installation of necessary vapour barriers and covering. The project is a follow up order of a German client in which the tanks for transport of liquid carbon dioxide are provided with cold insulation and further protection.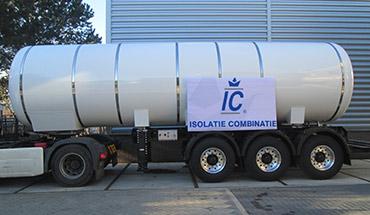 Transport of liquid carbon dioxide
Carbon dioxide, also known as CO2, is used in many industrial and food processing applications. Among other things for the cleaning of water, cooling or freezing of food products, for increasing growth rates in greenhouses and in carbonated drinks. In order to get the CO2 in an efficient way to the specific locations, the CO2 will be transported in a liquid state to the location. For this the CO2 is at a certain pressure and has a temperature of approximately -35 oC. To prevent icing by condensation of moisture from the air and to ensure minimal heating, the tanks are nearly always insulated.
Insulation of mobile tanks
At cold insulation, there is in principle, the choice between insulating the tanks with PU (Polyurethane) or to construct a double walled system with a vacuum insulation core. The last option may often be less interesting from a cost and maintenance point of view, especially for CO2. The vacuum must be maintained all the time and has to be monitored. A professional PU insulation is in most situations, also on existing tanks, relatively easy to apply and can be repaired quickly in case of damage to a truck. In addition, an insulation with polyurethane material is relatively light, so there is savings in fuel costs. IC applies the insulation on tanks with various dimensions. In this project the tanks were approximately 2 meters in diameter with a length of 8 meters.
Design of the insulation layers and covering
The tank insulation consists of multiple layers PU (Polyurethane) material with vapour barrier. The combination of insulation materials and vapour barrier ensures that the outside air cannot get to the cold tank and prevents icing. The insulation system is covered with a polyester covering. For this specific project the covering is coated in RAL 9016. The seams of the polyester covering are closed with rubber/ s.s. bands. For other projects the covering can also be carried out in coated aluminium sheet or stainless steel.
Also solutions for the insulation of cryogenic piping
IC also has experience in the application of insulation systems on cryogenic piping. For example, for liquid oxygen at -183°C and liquid nitrogen at -196°C. In the application of insulation on liquid oxygen systems extra attention is needed for the tools and applied materials with respect to increased dangers of fire.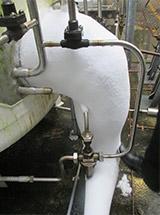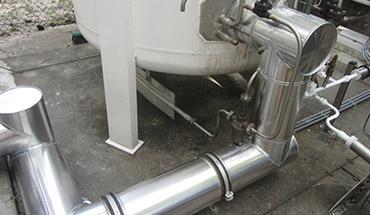 A cryogenic piping system before and after installation of insulation.
Why IC for cold and cryogenic insulation?
IC has extensive experience in the field of cold and cryogenic insulation. With a high reliability level and quality at a competitive price we are a true partner for our clients. Our facility is equipped for large systems and trailers and with our qualified staff we can handle projects with an average lead time of 1.5 week. Of course, further arrangements can be made for specific projects. Please contact IC for more information and an offer tailored to your project. More information on cold and cryogenic insulation can be found on our website.