The IGNIS-PFP jet fire protection has officially been certified by Lloyds with a 150 minute jet fire classification November last year. There is a rapidly growing demand for the product, and recently a jet fire protection wall has been placed on an offshore production platform in the North Sea.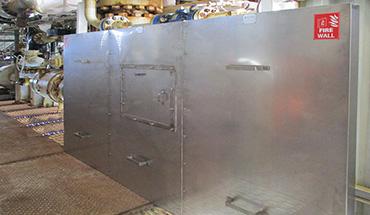 Modular fire protection walls
The wall of 3 x 2 meters in size protects an ESDV against possible jet fires. The IGNIS-PFP protection is a bespoke solution that can be delivered as a box, individual panel or wall. A wall, as applied in this project, has the advantage that the installation behind the wall remains easily accessible for inspection and maintenance work. Such a wall is also very suitable for the protection of escape routes.
Because of the modular and flexible construction of the IGNIS-PFP jet fire system, it can be used both in existing and new situations. A fire-resistant wall is constructed from multiple panels, which are connected both horizontally and vertically. The connections are made with bolts allowing the walls to be removed, under the guidance of IC engineers, during maintenance works. From a practical and engineering point of view the panels have, as a rule, maximum size of 2.5 x 1 meters with a weight of about 50 kg.
Design and assembly of the construction, also explosion and impact resistant
The panels are mounted on an steel structure, which may already be present or is newly constructed. IC can take care of the designs, calculations and drawings, and where necessary also to determine the explosion or impact resistance of the entire structure. With a two-sided stainless steel finish, the system is maintenance free and highly weather resistant.
With jet fire resistant hatches, entries and vents
The fire wall on the offshore production platform is provided with a (HSL) tested jet fire-resistant hatch. Where desired, the fire protection boxes and panels can also be provided with jet fire resistant cable and/ or pipe penetrations and ventilation openings.
More information about the system and project
View all project pictures under the menu item references and contact IC. Moreover IGNIS-PFP jet fire fire protection systems also provide an excellent protection solution for jet fires arising from hydrogen or LNG sources.