Construction components and technical installations of offshore and onshore locations often suffer from corrosion. Examples are engine guards, doors, (fire-resistant) panels, sound boxes and ducts. Corrosion/rust can lead to not properly closing doors and panels, unwanted sound leakages or other risky leaks and potential breakage. Rust often not only occurs on the outside, but there can also be rust on the inside of panels and ducts. This form of corrosion in particular can lead to unexpected and increased risks as it is not visible.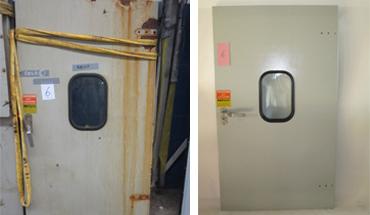 An example of a door overhaul
Repair and overhaul of metal components
IC takes care of the overhaul and repair of existing technical and construction components with work taking place on-site (including offshore) or in the IC workshop. The blasting and recoating of a corroded component is sometimes not sufficient. Instead of a complete replacement, a make-over, the creating of duplicate component or a new component by IC, may be a good alternative. Repairs and/or overhauls are often faster and often result in cost savings.
Repairs in the IC workshop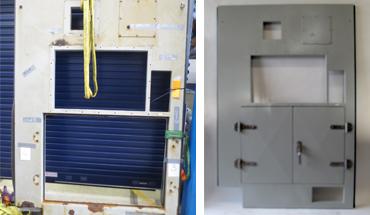 An example of repair and overhaul of panels with hatches and passagesComponents and construction components such as doors, panels and the like are transported to the IC workshop in Beverwijk in consultation with the client. The components are completely stripped, cleaned from rust, and treated. The component can also be provided with steel patches, depending on the nature of the damage and the corrosion (especially for side sills, corners and edges). The component will, if necessary, be equipped with new insulation, glass, rubber profiles and hinges and locks. A robust coating system will be applied after the repair work. The repaired and revised components will be returned to the client as new after a thorough check.
Components and structures can be provided with new or additional insulation and accessories during the overhaul. Design modifications are also possible.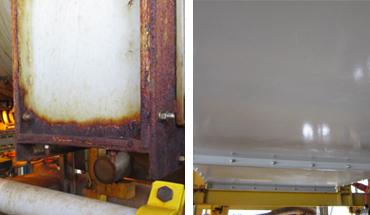 An example of on-site repair and revision of corroded ducts
Site survey with on-site repairs
We generally recommend starting with a site survey. The situation will be studied in detail during a site visit and it will be estimated whether on-site repairs or replacement are possible. This generally applies to components that cannot be transported such as ducts, load-bearing components and siding. Contact us for more information or request a site survey.