Cold insulation requires a high level of craftsmanship; any small non-system application or vapour barrier penetration can cause significant icing. Faults cannot just put the process at risk and influence the quality of products but may also lead to considerable energy and evaporation loses or unwanted pipe corrosion.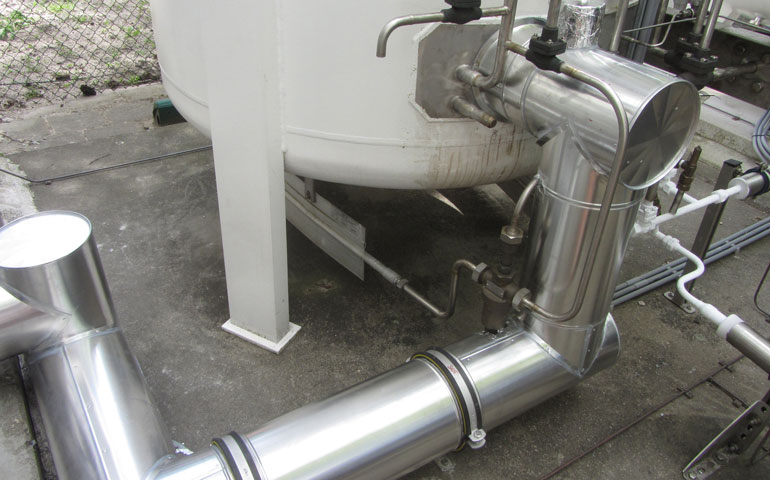 High-performance insulation systems
The liquefaction, storage and transportation of cryogenic media such as LNG (-160°C) or LPG requires high-performance insulation systems. Parameters such as thermal stresses, vibrations and required safety provisions have to be considered when engineering, manufacturing and installing cold insulation systems for these applications.
Insulation systems for liquid oxygen (-183°C) and liquid nitrogen (-196°C) require again a different kind of approach. For example, the insulation and cladding of liquid oxygen vessels or pipes must be absolutely grease free to avoid any risk on spontaneous ignition.
Multi-layer cold insulation
Often, multi-layer constructions consisting of different materials, protective layers and at least one but possible more vapour barriers are needed to achieve an adequate cold insulation. Materials like Polyisocyanurate (PIR) and Polyurethane (PUR) rigid foam or cellular glass may be used in these layers and a cladding of e.g. stainless steel, aluminised steel or UV cured GRP is applied to provide the necessary weather protection.
Applications of thermal insulation
Thermal, cold and cryogenic insulation can be installed on piping systems with large and small diameters as well as mobile containers, ships, off shore applications, vertical cryo tanks and large storage tanks.
Advice and installation service
The Design and construction of cold and cryogenic insulation systems is always performed in close cooperation with material manufacturers and our clients. IC is aware that each installation has its own requirements and next to the construction and installation we also provide design and engineer support when required. Contact us for more information on cold / cryogenic insulation systems.
Case study data sheets:

#20 Insulation of trailers and tanks

#24 Cryogenic insulation